So I've decided to embark upon a new series for both my blog and my YouTube channel!
Foundation 101...everything you need to know about Foundation!
Now the face, the canvas that we create our looks, that's my passion. I've always been able to paint the canvas and just know what colors and textures to use. It's a gift. Eyes, eyebrows, lips, contouring, that all took practice and work for me.
But the face? The skin? Color Matching? That came easy to me. Even in Makeup School, when we were doing airbrushing and foundation applications, I NEVER struggled. I always knew it took "2 drops of this and 5 drops of this with just 1 tiny drop of this" and I just knew it would create the right color by the proper amount of mixing.
But not everyone is like me. In fact, I know a lot of people struggle with it.
I want to try to share my knowledge of what I know with you. So I am going to start a series called Foundation 101. Every video with that title will have a specific topic relating to commonly asked question about foundations.
Before we get started with the blog, remember you can always go to the video I post on YouTUbe to see me discuss it in person. You can also see how I mix and match the colors there too.
I want to go ahead and go in depth here over each of the three demos I did in the video.
The first combination I want to talk about is combining a foundation lighter in coverage and color like the L'Oreal True Match in Natural Beige (but super light like Porcelain)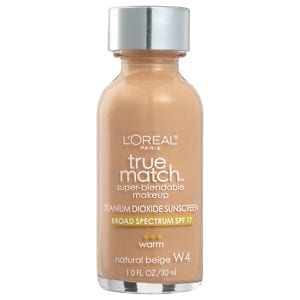 with a darker color/heavier coverage foundation such as Estee Lauder Double Wear in the shade Dusk
You need to determine whether you are on the side closer to the lighter foundation or the darker one.
I was closer to the lighter shade. If you are like me, you want to just slowly start adding the darker foundation into the lighter amount and mixing. You can check on the edge of your jawline whether it will work. Heck you could put it anywhere on your face to be able tell whether you need to add more or less of light or dark shade.
Next up we were looking to use two different foundations to create a different coverage. Maybe all you have is two extremes? A super heavy coverage vs a ridiculous luminous-light coverage?
For the heavy coverage foundation, I used a THICK heavy coverage foundation such as Kat Von D's Lock it Tattoo foundation. This foundation is extremely thick and dries extremely fast. It is such a good full coverage foundation. But remember, this is such a heavy coverage that it's a fine line between looking natural and looking like a mask. This is why some people tend to shy away from it.
I used the L'Oreal True Match Lumi in Soft Ivory/Classic Ivory for the lightest coverage. This foundation is very sheer. It's great for those looking to just have a nice glow over their perfect skin. (JEALOUS) Similar to a BB cream in that way. Not good for those of us who struggle with imperfections on our skin. But great for leaving the skin dewy and fresh.
So the demonstration was finding a happy medium between a too heavy and too light in coverage. You need to first determine whether or not you want to be on the lighter side or the heavier side. You can also determine whether you will need more coverage in a certain areas versus other ones. (Never forget concealer can be your best friend as well) The Kat Von D makeup is so thick, you want to work quickly with it. And the Lumi is so watery, it will literally run off the back of your hand or mixing pan. So the combination of the two can work to create exactly the kind of coverage you specifically desire! Additionally, the Lumi will give the Lock It foundation the dewiness to contrast with the natural matte qualities the Lock It inherently has.
Lastly, I worked on showing you how to create foundation colors using the Makeup Forever Flash Palette
You basically need a working knowledge of the color wheel. I'd say if you are on the lighter side, go ahead and start with the WHITE color and then slowly start adding in the brown. It's a process unless you know specifically how much you need. But it's a creamy coverage, amazing pigmentation and applies flawlessly. You can add greens if you tend to have red pigmentation in your face. But my main suggestion for the novices is to start off small, then gradually add more. It's always easier to add more color than it is to take away. (Another suggestion, have a towel handy!) The colors in palette can be used for eye-shadows, blush, lipstick, eyebrow color, face painting, etc. It's the most handy little palette than I guarantee you is on on EVERY SINGLE MOVIE/TV/PHOTO-SHOOT. I've never been on any set where the makeup team didn't have this somewhere.
So that is my first edition of Foundation 101. I have a few different ideas lined up. I'm thinking of creating the series to be once a week. Ideas range from high end versus drugstore, palettes versus individual colors, ingredients, application, airbrush etc. Do you have any ideas? Please comment and let me know?!
Foundation is my JAM!
XOXO,
Amelia St. John